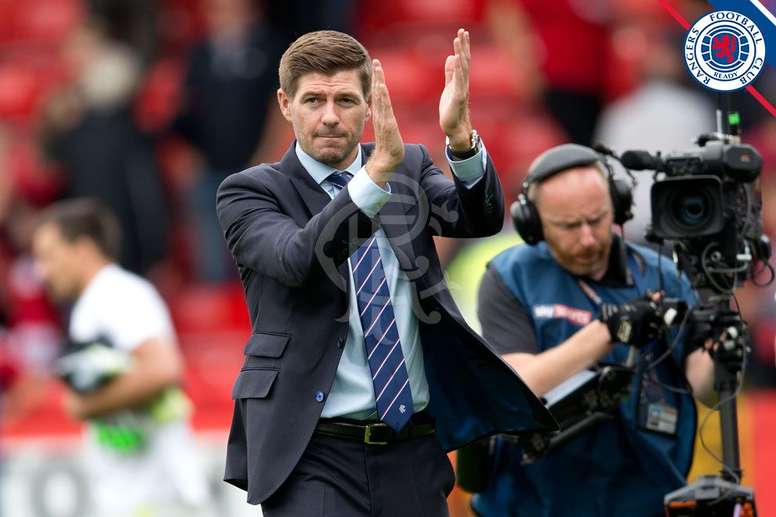 Andy Walker: 'Gerrard's conspiracy claims absurd'
Gerrard was extremely critical of officials after the Aberdeen grudge match ended 1-1.
Rangers had to see out the match with ten-men, after Alfredo Morelos was send off for kicking out at Scott McKenna in minute 12.
Following the match, Gerrard said: "It seems like the world is against us but we'll make sure we get better for that because it looks like some more decisions will go against us as the season goes on."
"We need to try and use it to our advantage. It's not just today, I believe it's been happening for seasons. That's just my opinion."
August 5, 2018
Walker played 150 games for Celtic, and told 'Sky Sports': "I don't know who he's been listening to in the background at Rangers."
"I think you get one or two idiots at every club but to suggest that there's some sort of wider conspiracy against Rangers is absurd."
"There's not a club in the land that can come up with bizarre refereeing decisions over the years and Rangers are no different in that regard."
"I think he should concentrate on his team who played a lot of good stuff yesterday."
"The big plus is that they looked a lot stronger defensively, they're not giving away cheap goals and I think that's something they can build on."
"They certainly need a bit more from middle to front, especially a main focal point of their attack. I think that's why they're interested in signing Kyle Lafferty from Hearts."
---
Rangers looked like they would get all three points, until Bruce Anderson was able to cancel out James Tavernier's penalty.
Walker did think Rangers deserved the win, but was adamant that Gerrard's side have a long way to go.
"It's not Steven Gerrard's job to get the better of Aberdeen, he needs to get the better of Celtic," he said.
"He needs to be a class above Celtic, that's his job and that's going to be a really tall order."
"I think it needs small steps. They were better than Aberdeen yesterday but there's still a lot of work to do in that Rangers squad, I think they need more options."