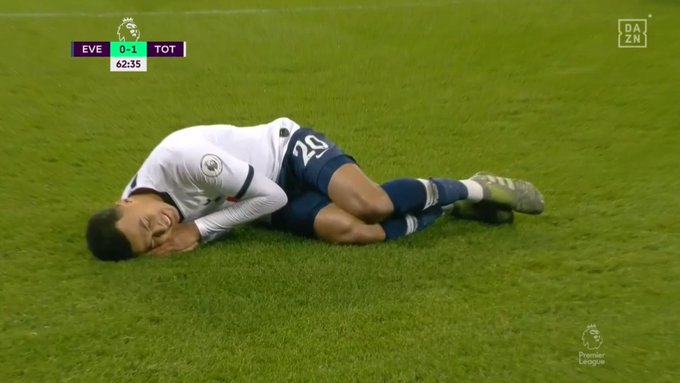 An unattractive game remembered for an unattractive incident!
This was a game of mixed emotions, as both teams will go away feeling sad and disappointed. Mauricio Pochettino knew how important a win was in the game, as his struggling Tottenham side needed to regain some confidence. Everton were also in the bottom half of the table and wanted to get something out of the game.
There was not much to report on in the first half, as both teams lacked quality and that cutting-edge that would have put them in the lead. There was a controversial VAR check as Gomes went down in the box after a collision with Sanchez and the ref gave it Tottenham's way, after the check, no penalty was given.
It was a rather average first half with no real chances for either team and the game felt more like a bottom-table clash than anything else. Something needed to give in the second half.
Just after the break there was another controversial VAR decision, as this time Son went down in the box after a little push from Mina, a very theatrical fall from Son, but could have resulted in a penalty if there was enough contact, but VAR deemed that there wasn't.
The goal came in the 62nd minute, as a mistake from Iwobi saw Dele Alli take advantage of this, as he got the ball, ran into the box and through some of the Everton defenders and then just confidently put it in the back of the net. His goal drought had ended and his celebration said it all, he had woken up. Tottenham were desperate to keep the lead after this and try and get all three points.
There was another controversial penalty denial by VAR, as the ball was crossed into the box from a corner and it looked to hit Dele Alli's hand (he had his hands above his head), but after a lot of deliberation from VAR, they denied the penalty. This was the third penalty of the game not given because of VAR.
However, the most worrying action in the lack-lustre game came in the 77th minute, as a challenge by Son saw Andre Gomes fall to the floor, clearly in a lot of pain. Son looked to catch his leg and his leg seemed to get wrapped under his foot. It was not clear what actually happened, but he received a lot of treatment. Son was in real distress after seeing the damage he caused and nobody knew what to do, as Gomes' team-mates tried to comfort him on the ground, but didn't know where to look, as his leg injury was very bad. Son got a straight red card and was sent, crying, down the tunnel. Gomes was stretchered off after a long period of time.
After 12 minutes of added time was displayed due to the VAR decisions and mainly, Gomes' injury, Everton managed to make the most out of this. Mina passed the ball into the box in the 97th minute and Tosun just managed to get his head on it and slot it past Gazzaniga to give Everton a crucial point. That goal was for Gomes and after a horrific night for all of Everton, that was a very welcome goal. It gave them all confidence to go on and get the lead against a 10-man Tottenham.
But this did not happen and the game finished 1-1. A very unsatisfactory day for both teams. They both showed a lack of quality and have a lot to improve on. Both teams go away with a point each. An unattractive game that will be remembered for a very unattractive incident with Andre Gomes.