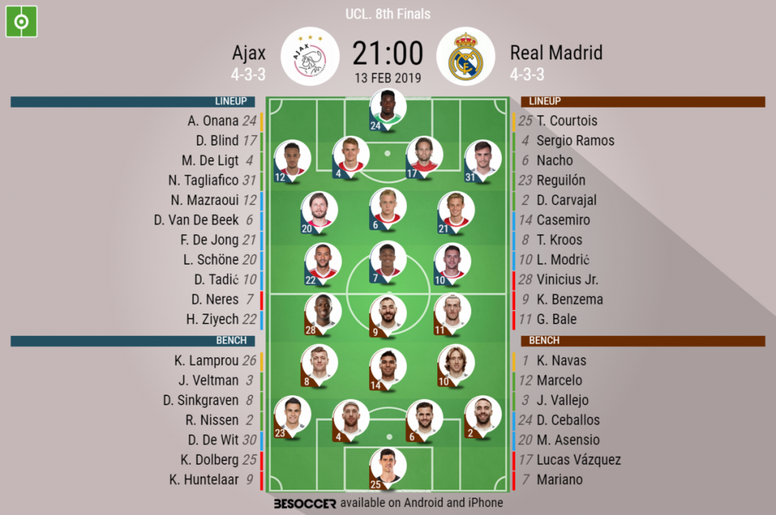 Ajax v Real Madrid - As it happened.
Ajax

Real Madrid

93'
As always, thank you very much for joining our live coverage of this Champions League last-16 first-leg clash between Ajax and Real Madrid. We look forward to seeing you next time for the second leg!
93'
FT: Ajax 1-2 Real Madrid. And that's it for second-half action! Two goals from Benzema and Marco Asensio seal the deal for Real Madrid while Ziyech was able to draw Ajax level for a while after the Benzema goal. Ajax will feel disappointed as they had several chances in the game to score, all squandered.
92'
CHANCE FOR AJAX! Dolberg has a great opportunity to draw Ajax level in the dying seconds of the game but his shot is weak. He should have done better. That will be the last kick of the game.
90'
Three minutes of added time in the second-half. Can Ajax get one back?
88'
It's Ramos' turn to see yellow for his challenge on Dolberg.
86'
Ajax feel they should have had a free-kick in the build up to the goal as Lucas Vasquez brought de Jong down.
86'
GOOOOOAAAAAAALLL FOR REAL!!! Asensio gets the finest of touches on the cross but it will be enough to put Real back ahead in the Champions League tie!!!
84'
Dolberg gets a free header on the cross but can't get on top of it to generate any power and it floats out of play for a goal-kick.
83'
Lucas Vasquez sees yellow as he brings Neres down in midfield.
81'
Neres goes to ground in the area but the referee will calmly dismiss claims for a penalty.
79'
Substitution Real Madrid - Vinicius Jr's night comes to an end as Solari introduces Mariano Diaz into the mix.
78'
Asensio almost puts Real ahead but his effort clatters the side netting!!
77'
Lucas Vasquez might have done better with his shot but he was under pressure from the defence.
74'
GOOOAAAALLLL AJAX!!! Ziyech finds himself with a tap in for the equaliser as Neres picks up the assist. For a moment we thought the referee would go to VAR but the goal stands!
73'
Benzema now has four goals in seven matches for Real.
72'
Substitution for Real Madrid - after firing his team ahead, Karim Benzema comes off and makes way for Marco Asensio.
70'
... the save is simple for Courtois.
69'
Ajax have a free-kick in a perfect location...
69'
Reguilon receives the first yellow card of the game as he brings Dusan Tadic down on the edge of the area.
68'
Ajax build an attack but that man Ramos is there to sniff out the danger.
66'
Vinicius brings Mazraoui down on the touchline for a free-kick inside Madrid's half.
59'
GOOOAAAALLLLL REAL MADRID!!! Vinicius sets up Benzema who absolutely smashes it home to put Real Madrid 1-0 up! What can Ajax do to respond?
55'
Lucas Vasquez warms up as Solari will look to inject some creativity into his attack.
54'
Bale frantically chases a through-ball but Onana will get there first to collect.
53'
Up at the other end, Neres has a chance to put Ajax ahead but his shot is blocked by Courtois and it will go for a corner!
51'
Benzema will pick the ball up at the edge of the area and fire a shot on target but Onana gathers fairly comfortably!
50'
Onana's throw from goal lands straight in the path of Carvajal and Real can begin to build.
49'
Bale slots an enticing ball across the face of goal but nobody is there to capitalise for Real Madrid!
48'
Ajax come out all guns blazing in this second-half as a few chances go by already!
45'
Ajax captain Matthijs de Ligt, age 19, leads his team out onto the pitch as the youngest starting captain in a UCL knock-out match since Cesc Fabregas in 2009 who was 21.
45'
And we're back for the second-half! Who will score first?
45'
HT: Ajax 0-0 Real Madrid. We're all level at the break after Tagliafico had his goal disallowed by VAR not long before half-time. Both teams with chances throughout the game but it was Ajax who looked more threatening in this first-half. Stay tuned to see if either team can break the deadlock...
45'
The shot is heading on target but Courtois punches away!
45'
Carvajal brings Tagliafico down on the edge of the area for an Ajax free-kick right before the break!
45'
The fourth official indicates that we will have two minutes of added time.
41'
Tadic worms his way through the defence but he toe pokes his shot wide.
39'
GOAL DISALLOWED FOR AJAX! It seems as though Ajax have the first goal of the match as Nico Tagliafico heads it in after Courtois spills from a corner. But referee Skomina calls on VAR to determine that the defender was offside.
35'
Courtois produces a fabulous save as Ajax come closest to opening the scoring!
35'
Ajax brings the ball upfield towards goal but can't find a clear opportunity on goal.
33'
Van de Beek brings Casemiro down in midfield for a Real free-kick. They will be glad to regain possession.
31'
Onana spills as he picks up a shot but he is clear of danger as no one is in the box for Real.
29'
Tadic receives the ball out wide to the right but the linesman's flag is up for offside.
28'
Neres goes down again, this time in the penalty area. He looks to the referee who signals for play to continue.
27'
Carvajal brings Neres down and the Ajax man is unfortunate not to get a free-kick.
26'
Tadic hits the post! Dusan Tadic does well to stay on his feet as he gets a shot away. Unfortunately for Ajax, it strikes the post and we stay level at 0-0.
22'
Ajax are enjoying most of the possession after 20 minutes of this Champions League first-leg. Will they be the first to score...?
21'
Real Madrid advance goalwards but a through-ball is intercepted by Tagliafico.
18'
Nacho is brought down by Tadic with a swipe to the throat.
13'
CHANCE MADRID! Vinicius releases a right-foot screamer, requiring a equally fabulous save from Onana. Madrid will have the corner.
11'
Schone lines up to take a free-kick for Ajax but it strikes the wall and Real will take possession.
10'
Ajax might have had a penalty as Kroos brings down Van de Beek in the area but the referee waves it away.
8'
Mazraoui has Ajax's clearest chance of the game so far but his shot drags wide of the goal!
6'
Bale's shot is on target but straight into the hands of Onana.
4'
Ziyech has a wild shot on goal from distance and the ball flies miles over the bar.
3'
Casemiro loses possession as Ajax pick up the ball on the edge of the area but Ramos deals with it.
1'
And we're off! Kick-off will be Real Madrid's!
Prev.
Both teams take to the pitch for the first-leg of this Champions League last-16 clash!
Prev.
Ajax are ready to go! Can they make history tonight and knock out the champions?
Prev.
Real Madrid are chasing their fourth consecutive Champions League title while Ajax reach the knock-out stage for the first time in 13 years! Who do we think will come out on top this evening?
Prev.
Real Madrid have arrived with both Benzema and Bale starting for Real Madrid while Sergio Ramos makes his 600th appearance for the Whites!
Prev.
CONFIRMED REAL MADRID LINE-UP: Real Madrid starting XI: Courtois; Carvajal, Nacho, Ramos, Reguilon; Modric, Casemiro, Kroos; Bale, Vinicius, Benzema.
Prev.
CONFIRMED AJAX LINE-UP: Onana; Tagliafico, Blind, De Ligt, Mazraoui; De Jong, Van de Beek, Ziyech; Neres, Schone, Tadic.