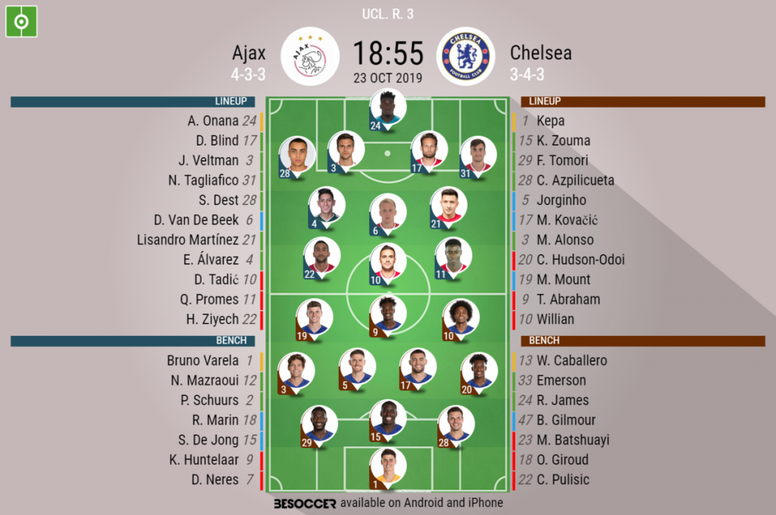 Ajax v Chelsea - as it happened
95'
FT: Ajax 0-1 Chelsea!!! It's all over in Amsterdam and Chelsea have won thanks to a Batshuayi goal four minutes from time after combining with Mount and Pulisic. Chelsea had edged a rather even game, but it looked like it would end 0-0 until Batshuayi's introduction changed the game. Big win for Chelsea here, thanks for joining us and see you again soon!
95'
20 seconds after play resumes, the whistle goes!
94'
Chelsea commit handball and Ajax finally attack!!! But Huntelaar ruins that with an arm in Azpilicueta's face. Free kick to Chelsea and the game's almost up.
93'
Chelsea win a free-kick over near the far corner now. They are running this down superbly.
92'
Chelsea just keeping the ball in the corner running out the clock. Dest also had a bit of cramp.
92'
Chelsea win another corner. Perfect for Lampard's men.
91'
Batshuayi shoots at Onana who spills it and it goes for a corner.
90'
Chelsea sub: Hudson-Odoi replaced by Reece James.
89'
Ajax double sub: De Jong and Huntelaar on for Veltman and Alvarez.
87'
It's probably a bit cruel on Ajax, but Chelsea were looking more dangerous.
86'
He's done it!!! Batshuayi scores!!! Mount has the ball outside the box, he gives it to Pulisic on the far flank and the ex-Dortmund man squares it for Michy who hammers home from 7-8 yards with the help of the bar. Alonso did well to let that ball go for the Belgian.
84'
Zouma steps on Ziyech's foot and is rightly carded.
82'
Chelsea better overall in my opinion, but a draw is fair.
81'
Pulisic!! Batshuayi involved again in the build up playing a one-two with the American and Pulisic pulls it wide.
80'
Tomori is adamant there's a handball in there, but the ref gives nothing. It may brush Tagliafico's arm. Play continues though. ,
79'
Nothing came of it, but they get another within 60 seconds.
78'
Hudson-Odoi wins a corner for Chelsea despite being offside in the build up.
77'
Ziyech's long ball for Tadic, I think is headed back to Kepa by Azpilicueta.
76'
Batshuayi's introduction has been very positive from a Chelsea perspective.
75'
Ajax sub: Neres on for Promes.
73'
Batshuayi!!! What have you done? Pulisic's shot is deflected by Tagliafico straight to the Belgian, who chests it 10 yards from goal and then blazes well over the bar! That was a glorious chance. He had to hit the target at least.
72'
Batshuayi hits a tame effort at Onana after Pulisic passes him the ball. . It looks like this one is staying 0-0.
70'
Chelsea sub: Batshuayi on for Abraham.
69'
Tomori pushees Veltman and the foul is called.
66'
Chelsea sub: Pulisic on for Willian.
65'
Martinez is cautioned for catching Jorginho in the face.
63'
Hudson-Odoi pulls back Martinez from behind after losing the ball because he tried a roulette in the centre circle.
62'
Three shots to one for the Dutchmen in the last 15 minutes. Both teams are having good spells of play. A draw is fair.
61'
Promes is offside from Van de Beek's pass. Correct decision.
59'
Off the post!!!! Edson Alvarez runs in and heads the corner at the near post towards goal he's denied by the far stick. So unlucky. Abraham lost his marker.
59'
Van de Beek feeds Tadic to his right and the Serb gets a corner for the hosts.
57'
Abraham's annoyed after the ref gives Ajax a free-kick after bringing down Veltman. Gave him a nudge in the back, but he went down in stages.
55'
Chelsea are having a good spell of possession now. The interval came at the right time for them.
52'
Corner for the away side.
50'
Mount hits one from outside the box and Blind gets his body in the way.
49'
Willian looks to have come off worse as he took a blow to the face. He looks a bit dazed, but is carrying on for now after drinking some water.
49'
And Tadic did not get off scot free.
48'
It's cleared and on the counter, Tadic cynically bumps into Willian. He sticks his foot and body out. Both are down injured as it was quite a coming together.
46'
Early free-kick here for Ajax. Well away from goal though.
46'
Welcome back everybody!! We are back underway here! No changes.
45'
HT: Ajax 0-0 Chelsea! No goals at the interval in a game of few chances and has been relatively even. Chelsea probably just edged it, but Ajax finished the half well. Hudson-Odoi has been the most dangerous for them , but Mount came the closest when he called Onana into action. Ajax had a goal disallowed through Promes, but he was just offside. Join us for more in a bit!
45'
Ajax have been on top since the disallowed goal.
45'
Alonso penalised for fouling Tadic.
43'
Azpilicueta fires wide for Chelsea after good play by Mount and Abraham.
41'
On the counter, Hudson-Odoi broke and his pass went past Willian inside the area before being cleared.
40'
Great defence by Azpilicueta!!! Superb quick passing from hosts sees Tadic, Dest, Ziyech and Promes combine before a sliding Azpilicueta prevents Promes' strike going on target.
38'
Chelsea certainly got a lucky break there as they were caught sleeping.
37'
Scrap that!!! It's offside. Promes' shoulder was slightly ahead of Zouma and the goal is chalked off. Back to 0-0.
35'
Ajax score through Promes!!! Ajax take a throw in deep in Chelsea's half, he plays a one-two with Tadic and Ziyech then crosses for Promes to head home at the far post. VAR will check, but it looks clean.
33'
Hudson-Odoi once again targets Ajax's right and his cross is easily caught by Onana. Chelsea are clearly targeting that flank.
30'
This is going in phases, but it looks like Ajax are having more possession and territory while Chelsea are looking more dangerous.
28'
Chelsea miss out! Mount intercepts an Ajax pass and plays in Willian, but then the chance ends when the ball ends at Hudson-Odoi's feet as Alvarez dispossessed him.
27'
A cross into the box is half cleared and Hudson-Odoi can't find the target from the rebound.
27'
Shots: 3-4, on target: 0-1. 56% possession for the home side.
25'
Hudson-Odoi makes a run down the near side, but Veltman puts pressure on him and he shoots wide.
23'
Yellow card for someone on the Chelsea bench. One of the coaching staff.
20'
Not much to report in the last few minutes. Ajax having some possession and territory, but not really very threatening.
17'
Dest attempts to create something down this near side, but Chelsea deal with it.
15'
Chelsea are having a good five minute spell.
14'
Mount!!! He dribbles into the box and tries to beat Onana at the near post who deflects it wide.
13'
Alonso's pass is deflected to Hudson-Odoi and then the attempted one-two in the Ajax box with Alonso fails as the Spaniard's pass goes out for a goal kick.
11'
Tomori!!! Kepa makes a terrible error passing it straight to Ziyech just outside the area and Tomori has to bail him out.
10'
Van de Beek volleys the corner at the far post, but it's blocked.
10'
Nice play by Tagliafico to play it off the defender for a corner kick.
8'
Veltman!!!! Chelsea lose the ball 35 yards out and he strikes a left footed effort which flies just past Kepa's left hand post.
7'
Ajax attack and call for a foul on the edge of the box. Nothing called though.
7'
Foul by Abraham on Veltman near the halfway line.
6'
It's been an even start to this one so far.
4'
Chelsea earn themselves another corner after a cross is deflected behind. It came to nothing.
2'
Tomori loses the ball and Ajax attack and there's a big shout for handball!!!! Van de Beek's shot hits the defender's arm, but offside is called. Not sure it was off, but it rebounded off Alonso's body. Good call.
1'
Chelsea win a corner inside 30 seconds. Onana palms away Hudson-Odoi's set piece.
1'
Underway in Amsterdam!!! They are shooting from left to right.
Prev.
After an anti-racism photo, we are good to go!
Prev.
The anthem has been played and Tadic and Azpilicueta have shaken hands with the officials. Chelsea in the black.
Prev.
The players are in the tunnel here!
Prev.
Ajax have won their opening two CL games after beating Lille 3-0 and then winning 0-3 at Valencia. Valencia beat Chelsea 0-1 on matchday one before Chelsea won 1-2 at Lille.
Prev.
For Ajax, Edson Alvaez and Tagliafico replace Mazraoui and Huntelaar from the side that won 1-2 at RKC Waalwijk.
Prev.
Hudson-Odoi makes his first CL start this evening and Lampard makes one change from the team that beat Newcastle on Saturday. Barkley is replaced by Kovacic.
Prev.
It's 14 degrees in Amsterdam this evening.
Prev.
These two teams have not faced each other before, funnily enough.
Prev.
The referee for this one is Ovidiu Hategan of Romania while Szymon Marciniak of Poland is the VAR.
Prev.
Chelsea XI:: Kepa (GK); Tomori, Zouma, Azpilicueta; Alonso, Jorginho, Kovacic, Hudson-Odoi; Mount, Abraham and Willian.
Prev.
The teams are in! Ajax XI: Onana (GK); Tagliafico, Blind, Veltman, Dest; Martinez, Van de Beek, Alvarez; Promes, Tadic and Ziyech.
Prev.
Good evening and welcome to our live coverage of the Champions League match up between Ajax and Chelsea from the Johan Cruyff Arena in Amsterdam. Who will come out on top?