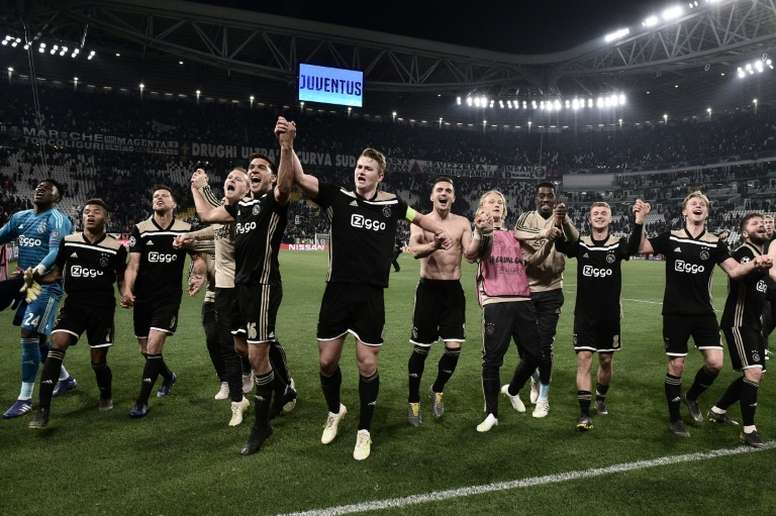 Ajax come from behind to knock out another European giant on historic night in Turin
Ajax are through to the semi-finals of the Champions League after knocking out Juventus with a 1-2 victory in Italy. And this was no smash and grab. In the second half, Juve were made to look like a run of the mill outfit by Erik ten Hag's men and the Dutch side fully deserved to progress on this night which will be remembered for years to come.
The Dutch team came into the game knowing they had to score to go through, but in the first 20 minutes, they hardly stepped into the Juve half. Juventus dominated territory and possession without really troubling the goalkeeper, Onana. They were willing to wait for their opportunity while keeping Juve well away from the penalty area. They suffered an early set back as Mazraoui was forced off injured after turning his left ankle awkardly after fighting for the ball with Dybala. Sinkgraven replaced him in what was otherwise an uneventful opening 20 minutes.
The game then sparked into life and Van de Beek nearly gave Ajax the lead. Veltman found Neres in the box, he passed for Tadic who for not the only time in the game, played a lovely backheel to a teammate. This time it was to Neres and following a bit of pinball, Van de Beek fired over. Dybala then responded with a hit from the edge of the box which forced Onana to dive to his left to catch. Ajax managed to win a corner shortly afterwards and had 53% possession in the opening 25 minutes.
Three minutes later, Cristiano Ronaldo, Juve's hero in the previous round, gave Juve the lead. Bonucci sent in a corner and the Portuguese powered his header past Onana. The referee, Clement Turpin, was called to the sideline to check for a possible foul, but it was De Ligt who pushed over his own teammate Veltman rather than any opponent and the goal stood. Ronaldo, who had scored his sixth goal in the competition this season, then fired over a few minutes later when he could have looked for teammates in the area. In the 34th minute, Ajax equalise and the game changed.
Schone started with a good run in Juve's half and the move concluded with a Neres shot from 25 yards shot being deflected and the ball broke fortuitously to Van de Beek, who beat Szczesny. There were claims of offside which were unfounded because De Sciglio was playing him on. The game became more even after that with both teams attacking.
Juve wanted a foul on the edge of box because they felt Can was brought down by Blind. Ajax attacked through Neres charging down the far side. There were five minutes of injury time and Dybala, who was replaced by Kean after the interval, was limping. Ronaldo had a free-kick right on half-time which cannoned into the wall and Pjanic unsuccessfully tried to win a corner. The last 10 minutes were more even, but there was no reason to think Juve were going to score in a game which would have headed for extra-time if there had been no more goals.
The second period was a different story. After a good four or five minute surge by Juve, the hosts were played off the park. Tadic played a superb backheel to Schone after a superb move and Van de Beek's strike was then deflected for a corner in the 51st minute. A minute later, Szczesny had to make a terrific save after Pjanic lost the ball to Neres. Van de Beek was involved once again and then Ziyech's shot was going in the top corner before the Polish goalie tipped it over.
Ronaldo headed wide a corner in the 56th minute, but Ajax were back within seconds. Van de Beek's curling effort from 20 yards was on its way in if it had not been for the goalkeeper's mitt. Moise Kean had one of his few openings in his 61st minute after Ronaldo found the youngster before he fired wide. That said, in the previous 10 minutes, Ajax had dominated their hosts and Allegri's side were rattled. De Ligt headed over a corner in the 64th minute, but three minutes later, he would find the target,
Schone delivered a splendid ball in from the corner flag and De Ligt leaped highest to head it into Szczesny's right hand corner. It was a stunning scoreline which was coming. Juve needed two and Ajax wanted and shoudl have had more. Schone struck wide of the post and the away side were wasteful in many of their counters. They tried to take one pass too many on many occasions. Neres inexplicably missed a golden opportunity 15 minutes from time as it fell on his weaker foot and Allegri was powerless after bringing on his only striker on the bench at half-time.
Ziyech could have even made it 1-3 as he scored a beautiful goal, but he had strayed offside when Neres passed him the ball and the goal was disallowed. Juve attacked constantly, but the Ajax defence remained firm. Schone even had one other chance to make it 1-3 before the end on a night which left Juve gobsmacked. In the second half, Ajax had over 10 shots to Juve's four. Cristiano Ronaldo was in tears as he left the pitch and he saw yellow seconds before the end for a foul on Veltman. Ajax were jubiliant and they had just defeated Juve on their own turf when no one was expecting it.
After knocking Real Madrid out of the last 16 by overturning a one goal deficit, Ajax had nothing to fear and once again they stunned the continent and probably even the world with this victory. Forget a Messi versus Ronaldo final, Ajax may even be there themselves. And given what we have seen, why can they not knock out Man City or Tottenham in the semi-finals? It was an extraordinary night and it brought back memories for many of the Ajax glory days. The magic and beauty of football was once again on show on Tuesday in this crazy Champions League season.