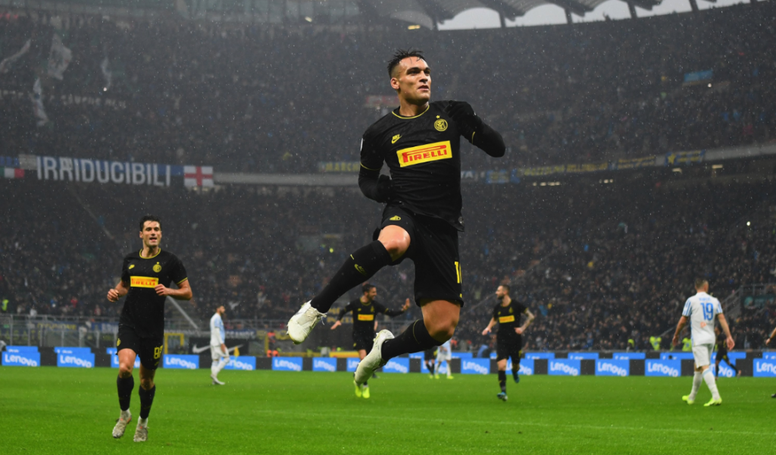 A former Inter and Barça player wants Lautaro to stay put
Spain's Luis Suarez Miramontes, a former Barcelona and Inter Milan player, said on Wednesday that if he were Argentina's Lautaro Martinez, he would stay with Inter at this point and resist the temptation to sign for the Catalan side.
Luis Suarez, the only Spanish player born winner of the Ballon d'Or, continental champion as a footballer and former national coach, said in an interview with the Italian newspaper 'La Gazzetta dello Sport' that, in Barcelona, Lautaro Martinez would not have the prominence that now has at Inter.
"Deciding whether to stay or not is very complicated. If I were him, I wouldn't change teams. Although if he called Messi it would be difficult not to think about it. But we're talking about a guy who's still very young, who has all the time he needs to take on other challenges in the future," said Luis Suarez, who was a double European champion with Inter in 1964 and 1965.
"Let's face it, he'd be less of a player in Spain than he was at Inter. Let me give you some advice: 'Stay where you are,'" he added.
Lautaro, 22, scored 16 goals in 31 matches this year, including one at Camp Nou against Barcelona. He is under contract until 2023 and has a buyout clause of 111 million euros.

Luis Suarez also believes that former Inter captain Mauro Icardi, currently on loan at Paris Saint-Germain, will no longer be wearing the Inter shirt after last year's bitter clashes with the club's top management.
"The relationship is definitely broken. I think it's impossible to imagine him at Inter again. We'll have to optimise the income generated by his transfer, so that we can sign another great player. But there's still a lot of anger about what happened," said Luis Suarez.
"I would have liked to have seen a trident at the San Siro with Icardi, Lukaku and Lautaro. What a spectacle," he concluded.
The relationship between Icardi and Inter broke down last year and, according to the club, the Argentinian's bad behaviour shook the balance of the locker room.
The then Inter coach Luciano Spalletti went so far as to declare publicly that Icardi "refused to wear the Inter shirt" and that he found it "humiliating to have to beg a player" to represent his club.
A situation that reached its limit in July 2019, when CEO Giuseppe Marotta explained that Icardi would not play for Inter again as it was not in Conte's plans.