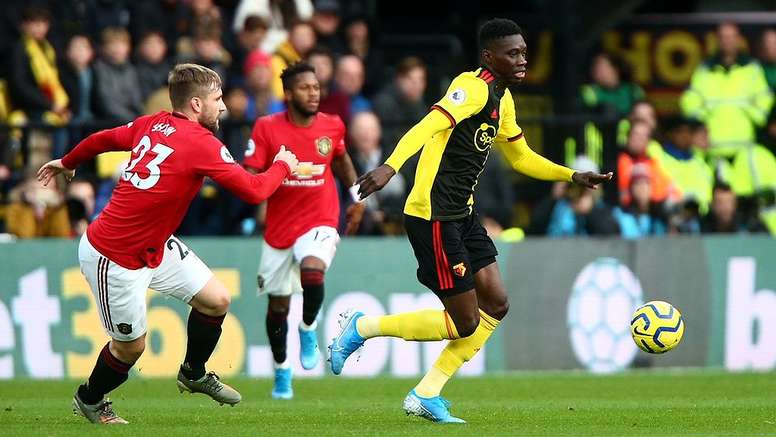 A day to forget for United as struggling Watford snatch all three points
Before the start of the game, the big news seemed to be that Paul Pogba had stepped up his recovery and was named on the bench for Sunday's game. This game was huge for Man United today as they have to win these sorts of games to bring back the belief that they could get into the top four! Watford needed to get out of the slump they were in at the bottom of the table.
Watford got the first half underway and they looked by far the most dangerous side. They pressed and pressed and put a lot of pressure on in their attacking box, but lacked confidence from previous games and so their finishing quality was low.
Manchester United's passing in the first half was off, they seemed hurried and rather out of it and were not able to find their rhythm at all. A misplaced ball by Rashford saw Deulofeu get the ball and run down the pitch to put some pressure on, some good play in the box saw them have their first proper, convincing shot, but De Gea got his gloves on it.
The half time whistle blew and it was all level. Watford would definitely be happy with their first half performance, whereas Solskjaer would be worried and wanting to motivate his team for the second half. However, all the action came in the second half!
What a way to start off the second half! Watford certainly came out fighting and were soon rewarded with a goal in the 49th minute!
This was all due to David De Gea. Hughes played the free kick in from the edge of the box and Sarr was in the box to receive it, he hit it towards the top corner, but it wasn't very powerful and was a shot De Gea should have easily saved, however he scuffles it with his hands and it goes past him and into the back of the net, putting the home side in the lead! A terrible moment for De Gea and Man U.
And less than 2 minutes later there was more controversy! Watford were awarded a penalty, as Wan-Bissaka committed a very rash challenge in the box. Deeney stepped up to take it and he did not miss, confidently sending it straight down the middle to double his team's lead!
Paul Pogba made his return after almost three months and replaced Jesse Lingard, as Solskjaer hoped he would make an impact in the game. And he did, as United looked a lot more livelier and likely to get at least one goal.
However, they could not make any of their chances count and Watford threw all men back in order to not sacrifice their lead. The last kick of the game was a free kick and came a little too late for Manchester United, but Mata wasted the opportunity as he sent it well wide from just outside the box.
Full time saw Watford get the three points after a 2-0 win over the Red Devils! A helping hand from David De Gea sees their comeback begin. United were very average today and they really struggled to get into the game. Solskjaer's 5th defeat of the season and to another bottom of the table team. This is Nigel Pearson's first home win in charge and he will be hoping he can now turn around their situation. Worrying times for Manchester United going into the busy Christmas period.
It has only taken 18 games and 3 managers, but Watford finally have a performance. This is only the second ever time they have beaten United, but they sure will be happy with what they produced.