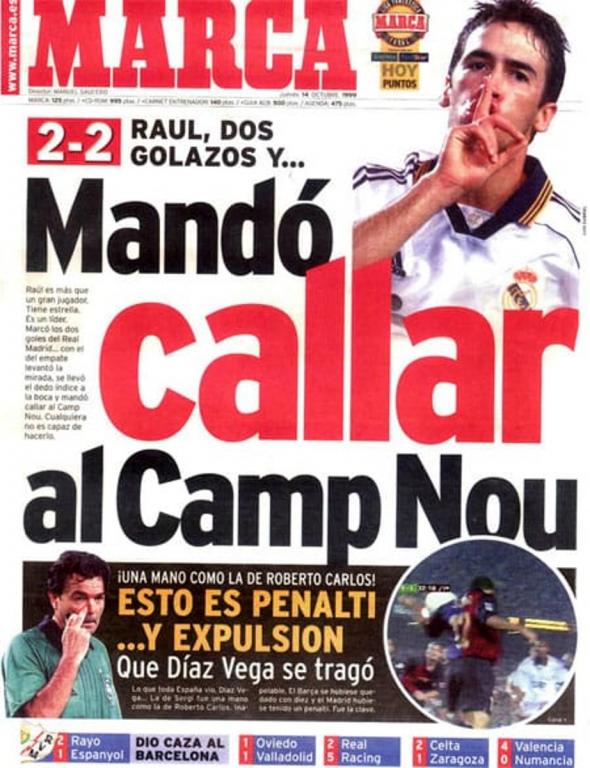 20 years on from Raul ordering the Camp Nou to be quiet
The match was a very eventful encounter. Four goals, penalties not given, insults hurled at the referee and red cards and Raul putting the fingers to his lips. Two teams who were not in the best form met at the Camp Nou. Louis Van Gaal was the Barca manager, John Toshac the Real Madrid one. At the end of the season, Real Madrid won the Champions League while Barcelona were trophyless.
Raul put the away side in front. Savio went down the left hand side, he crossed and the now Real Madrid B coach headed home. Two minutes later, Rivaldo levelled with a strike from the edge of the box. This all occurred in the first half an hour.
Tempers started to fray when Sergi committed handball, but Diaz Vega did not give Barca the spot kick. Patrick Kluivert was fuming and he shouted at the referee. Diaz Vega pulled the red card out of his pocket and the home side were 2-1 up, but a man down. Figo had scored a great goal for the home side. A few months later, he would move to Real Madrid.
Then came the big moment. he received the ball and scored to make it 2-2. The next thing he did was order the Camp Nou to be quiet by putting his finger to his lips. An image which has not been repeated since then.
"It was the circumstances in that moment, in that game. It's clear that that photo has become part of history. But my relationship with the Barca players, the club and the fans has been of lots of respects. However, the tension on the field of play made me do that. That's that.," Raul said many years later.
'Marca' led with the image the following day on their front page. "Raul, two great goals and he told the Camp Nou crowd to be quiet," it read.