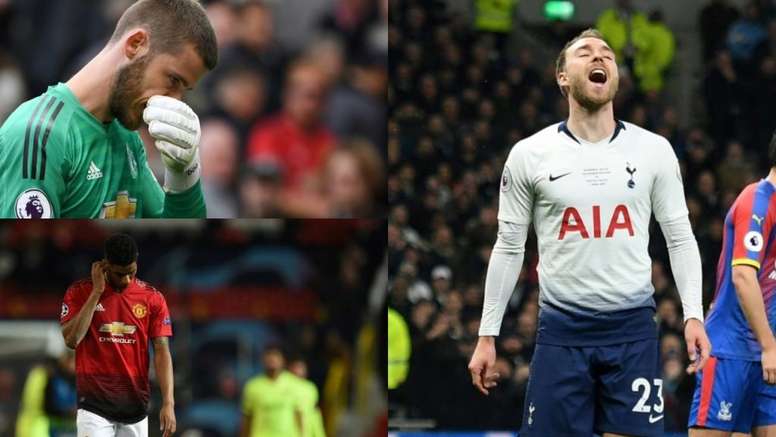 10 Premier League stars whose contracts expire in 2020
One of the names in the transfer market which leads the list is Christian Eriksen. His contract at Tottenham ends on 30th June 2020 and at the moment, a renewal seems far off. Real Madrid are after him and they have every right to be. He has got quality, talent, he can go into the area, he strikes the ball well and he does not raise his voice off the field.
Marcus Rashford finds himself in the same situation. Both Barca and Real Madrid have shown interest in him. At 21, he is one of the upcoming talents of European football. At the moment, his biggest problem is scoring goals, something he does not usually make his name for. That said, he is powerful, quick, he strikes the ball well and he has a bright future ahead of him.
David De Gea, even if he has disappeared off the front pages, was the main man on the market not too many windows back. The Spanish goalkeeper has great support at Old Trafford, showing every week that winning Best Goalkeeper of the Premier League was no fluke. His failed attempt to go to Real Madrid does not mean he will not rule out going to another club since Man Utd are not going through their best spell.
Willian, Toby Alderweireld and Ilkay Gundogan are other names which would appear in any European agenda. The Chelsea player ended up becoming closely linked with Barca; the Belgian was very close to winning the Champions League with Tottenham while the promising Gundogan would not lack suitors if he decided to go to elsewhere.
Ryan Sessegnon's contract also expires in 2020. He is a promising 19 year-old who plays for Fulham and United have shown interest in him for years. He will be playing in the Championship next season after the West Londoners got relegated last season. Nemanja Matic, Mr Dependable in the midfield as well as Jan Vertonghen and Eric Bailly, quality defenders which have shown to have a place in any team in the five major European Leagues.
At this time of year, the teams are thinking more about signing new players than keeping the ones they already have. That said, at the end of the market, renewing footballers' contract must become a priority. That is the only way to prevent the players from negotiating freely in January. Otherwise, they could go in summer 2020 for nothing.