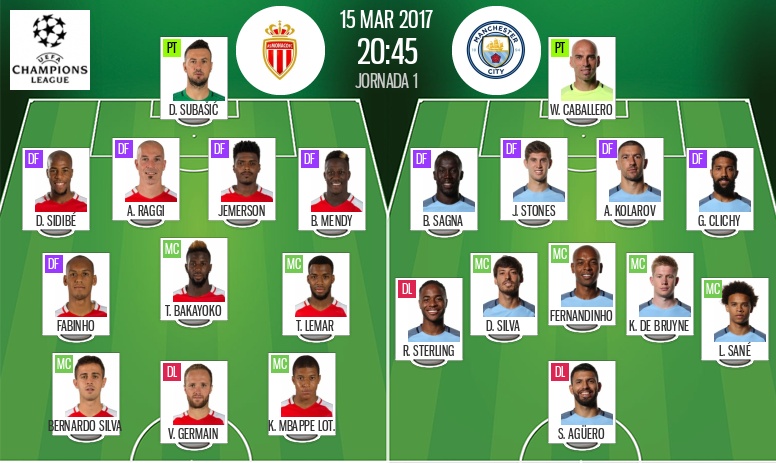 Monaco vs Manchester City. As it happened
Monaco vs Manchester City. As it happened
An exceptional first half from Monaco sees them through to the Champions League quarter-finals. Manchester City showed a more positive side in the second half but it wasn't enough after a woeful beginning to the game.
It's over!
Straight at Subasic
Last chance for City
Yellow card for Lemar. City now have a dangerous free kick.
3 minutes added time
City push
Yellow card for Germain for a tackle on Kolarov. He the gives way to Dirar.
5 minutes to go...
City now playing with three defenders. They have put on a decent display in this half, but Monaco put away the only chance they have had.
Time running out for City...
City change
Iheanacho comes on for Clichy
Monaco substitution
Mbappe off for Joao Moutinho
What a game!
Monaco take the lead again. Silva's cross is headed in by Bakayoko. What a game this is shaping up to be. Right now, Monaco would go through.
GOAL!
City booking
Yellow card for Sterling for a tackle on Bernardo Silva.
Manchester City eye the quarter-finals
Manchester City had been edging closer to a goal. Sterling cuts inside and shoots with his left foot, Subasic saves but Sane picks up the rebound and puts City through. See how Monaco respond because what we have seen in the last 25 minutes has nothing to do with their first-half version.
GOAL!
Sane's shot out!
Monaco's change of approach has given City many chances to take the lead, but this time Sane, at a tight angle, shoots just wide.
Aguero again!
Silva cut onto his right foot in the box and passes to Aguero, but Subasic stretches and saves with his foot. That was the clearest chance yet.
Another great chance for City!
Sane bursts into the box and pulls the ball back for Aguero. Too much power on the ball and Aguero sends the ball high above Subasic.
So close for City!
De Bruyne's through ball finds Sterling who attempts to square the ball through to Aguero but Raggi deflects. Had the ball reached Aguero it would be 2-1. De Bruyne and Bakayoko both get booked for separate incidents in midfield.
Change of script
We are seeing a different Monaco to that of the first half. Jardim might have opted for a change of tactics having taken the lead. Could prove to be risky as City start to get closer...
City only need one
City begin the second half with a bit more possession and presence in Monaco's half. Yaya Toure is warming up.
0 - Man City failed to attempt a single first-half shot in a Champions League game for the first time ever. Stunned.

— OptaJoe (@OptaJoe) 15 de marzo de 2017
City get the ball rolling
No changes for the second half.
We're back!
What a Monaco performance
What a first half from Monaco. Mbappe and Fabinho give them the lead. Their offensive play has been too much for City, who just don't know how to respond. Pep said before the game he wanted to come out and attack, well they have not had a shot on goal in the entire half. I wouldn't be surprised to see substitutions for City.
Half-time
Monaco unstoppable
Monaco not letting go as City are still penned into their half. It has been a football masterclass from the French team.
Brilliant Monaco
As it stands, City would be out of the Champions League. They seem defenceless at the moment, but I would definitely expect more goals with an hour still to go.
Monaco are through
Fabinho gets the goal after Mendy's low cross. Monaco have deserved it as we reach the half-hour mark. Nothing happening for City, too slow on the ball and, quite frankly, not in the game.
GOAL!
Germain's shot high!
Every time Monaco pick up the ball they create danger. This time it was the captain who shot high.
Monaco goal disallowed!
Mbappe thought he had got a second, but was slightly offside.
Relentless Monaco pressure
City's attacking players are very much off-pace. The French side seem to be in a different gear.
City overwhelmed
Not a good start for City who wanted to play attacking football, but are struggling to keep up with Monaco's rhythm and intensity.
Yellow card for Sagna
Bernardo Silva was faster and it was a clumsy challenge from the City man.
GOAL!
Mbappe had the first clear chance for Monaco and missed. He did not miss the next chance. Bernardo Silva drove the low cross into the box and the teenage striker puts it past Willy Caballero. Monaco have some serious attacking power. 7 minutes it has taken them.
Good start to the game
Monaco have gone forward with conviction a couple of times. Looking dangerous.
Monaco get the game underway!
The game is about to start!
Monaco and City players jump onto the Louis II stadium. We should be in for a treat, going by these teams' offensive ability... and certain defensive lacks.
Both teams ready!
15 minutes to go!
There were plenty of goals at the Etihad with the scoreline showing 5-3 at the final whistle. 2-0, 3-1 or 4-2 to Monaco will send them through to the quarter-finals.
Both teams warming up!
Monaco will miss Falcao, as well as centre-back Glik and midfielder Joao Moutinho. All important names for Jardim's team...
Follow live commentary as Manchester City travel to Monaco with a dangerous 5-3 lead.
A Champions League last-16 second leg fixture is always exciting and more so when both teams racked in eight goals in the first leg. Leicester are, for now, the only English team in the quarter-finals. Manchester City will look to join them, but it was a risky result at home, giving away three goals. Monaco's star striker is absent today, but Monaco have already proven they can score goals.
Monaco: Subasic, Fabinho, Jemerson, Bakayoko, Bernardo Silva, Sidibe, Mendy, Raggi, Lemar, Germain, Mbappe
Manchester City: Caballero, Clichy, Kolarov, Stones, Sagna, Fernandinho, Silva, De Bruyne, Sterling, Sane, Aguero