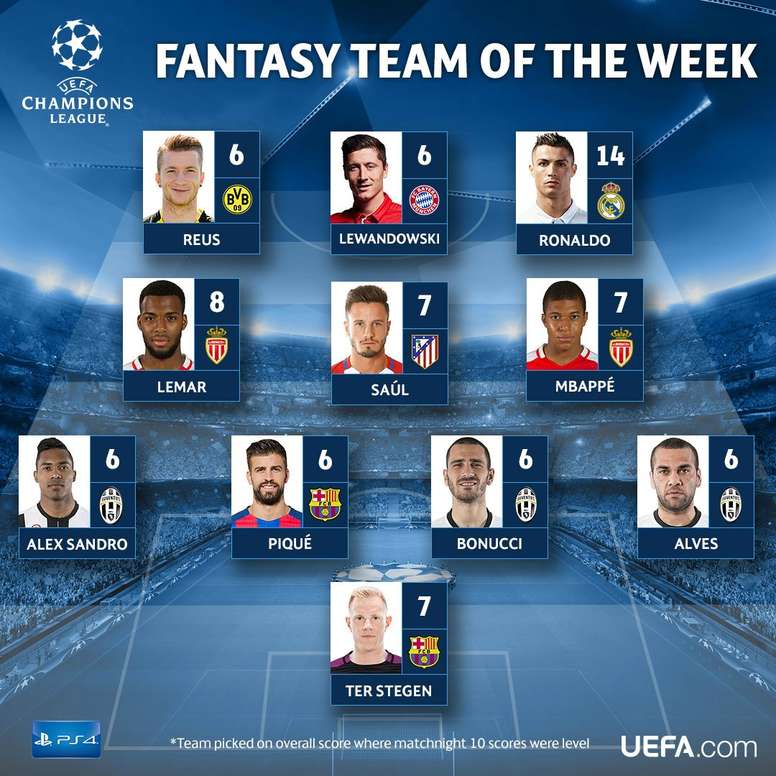 Champions League team of the week
There is a heavy presence of Juventus players, more specifically in defence, after their team's heroics at the Camp Nou to keep Barcelona at bay. The Italians managed to battle out a goalless draw to see off Barcelona with performances from Alex Sandro, Bonucci and Alves being recognised.
Despite the draw, Barca have still managed to have two players included, with Pique and Ter Stegen making the cut. With the Catalans needing three goals and all out to attack, Juventus were free to break comfortably and would have managed to score if not for intereventions from the goalkeeper and the defender.
Monaco beat Dortmund twice to see themselves through to the semi-finals, and Lemar and teenage sensation Mbappe played a big part in their side's home victory in the second leg.
Atletico midfielder Saul scored a crucial goal for his team at the King Power Stadium to end the Foxes' European dream, while Borussia Dortmund winger Reus could not avoid defeat in France despite pulling back a goal and putting on a good all round performance.
Strikers Lewandowski and Cristiano Ronaldo also feature in the team, having both scored at the Bernabeu. The striker netted a penalty before being subbed off after Vidal's dismissal, while Ronaldo heroically scored a 'perfect hat-trick' for his team to qualify.